29
09
2010
Creating games is not easy and it's always great to read some afterthoughts. I thought that I'll share our experience with development of Soccer Cup Solitaire.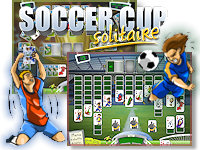 Let me say few words about the game. Soccer Cup Solitaire is a card game with soccer theme. Some say it's not solitaire, because you just match similar cards like two Jacks or two 8's. The mechanics are similar to Heartwild Solitaire and some bonus features are inspired by Fairway Solitaire (thanks to Orchid Games and Big Fish Games for creating those two great games).
We knew Soccer Cup Solitaire won't be a top seller game, but we wanted to develop it anyway, to take a break from GabCab development. GabCab has been in development for second year and we had iddle moments from time to time that we wanted to spend creatively.
What went right:
short development time – the game from start to finish took 4 months – it could be shorter, but we haven't been pleased with the art assets from the first art team.
smooth integration of soccer theme into solitaire game.
great music – it was a tough decision – we knew that the theme will probably kill interest of female audience, so we at least wanted to please male audience as much as possible. Rock songs from Saint of Silence did awesome job when it comes to adding tension to the game.
not wasting time on prototyping and place holder art – we had natural deadline (World Cup 2010) so we decided that there's no time to prototype things. We also had top priority project in development (GabCab), so we decided that we will work on SCS only when we get final art. It shortened development time very much.
constant passion for the project – working with final art during short period of time kept motivation and efficiency of development on very high levels.
we signed deals with new portals – Alawar and GameHouse. RealArcade was very picky about games they launch and I thought that after the merge with GameHouse it will be the same at GameHouse, so I was pleased that the game was accepted for distribution.
development of SCS prevented possible burnout for GabCab.
SCS has great CR (but that's probably because of low download ratio)
What went wrong:
not enough time to play test the game – Sport events and Holidays are strict deadlines, if you release the game after them you lose a lot of possible interest in your game.
we missed the deadline by few days, but at least World Cup lasts 30 days, not one day like xmas or Halloween.
we had to cut some nice features to be able to release "on time".
not enough downloads, which leads to…
though it wasn't expected to be a top seller, it sells below expectations.
Overall I was happy with the project. It proved to us (again) that short development times are necessary to keep high motivation and passion for the project and that switching between projects increases development efficiency while "delaying" release of each project just a bit.
Please rate my article: