30
06
2008
How to shoot yourself in the foot?! No, I'm not talking about us, developers. I'm talking about portals. It looks like we are going to face another war between the key players in the casual game market. And it starts to look like some portals want to become evil.
Market review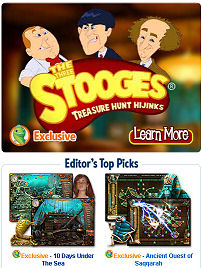 Big Fish Games is one of the biggest, if not the biggest casual game portal. It's one of my favorite portals. It's easy to navigate, delivers wide variety of games, is great to work with and very responsive. They're not afraid to risk the launch of new genres or not so casual games. There's just one problem with BFG – their game club which offers games at discounted price of as low as $6.99. But is it really a problem?
It looks like other players in the market starts to think so. What's more, Big Fish Games is very successful at getting exclusive deals, mostly short-period. And that's another thing that bothers other players. Some portals start to send threats to developers – if you give even short-time exclusive to BFG we won't launch your game. You can read more about it at The good BIG bad FISH exclusive GAMES… in Maciek's blog. Initially I was very upset about it. But let's take a closer look at possible scenarios.
The end of exclusive deals?
Comments :
2 Comments »
Categories :
general
,
portals
,
publishing
,
sales channels