10
05
2008
Three weeks after the launch I can say a little bit more about Runes of Avalon 2 performance, as well as Stoneloops! of Jurassica performance on the Big Fish Games top 100 chart. Both games for most of the time have been climbing up, but few days ago started to fall on the chart. That's too bad when you prove one of your not optimistic theories with one of your games. We didn't get into top 10, so it looks like our games will fade away. It's just a question of time.
It may take a little bit longer for Stoneloops! because it still holds position #2 on marble poppers list, while ROA 2 moved from #2 on match-3 list to #10.
Interesting observations?
Most of the games that reach the top 100 chart fall down on the list the second day after release.
Popular game icon – It doesn't matter how high your game will get on the list unless it does it quick. If it doesn't get into top 35 next day after release it will never get it.
If you are not so sure about your game sales potential (read – it is not time management or hidden object) better contact all portals simultaneously. Otherwise you risk that other portals will not even play your game – they will just look at the Big Fish Games top100 chart and if it doesn't do well they pass on it. Maciej from Codeminion has written great post about it.
Here is a day by day graph of both games performance on the top 100 chart: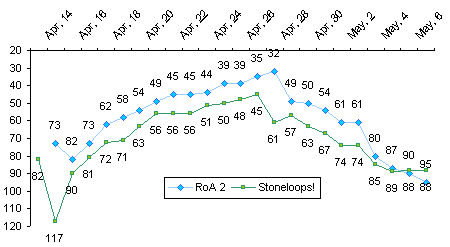 In the last few days Stoneloops! kept higher position than Runes of Avalon 2. In the short run it is better to be a match-3 game, but in the long run it may be better to keep #2 position in marble poppers than #10 or lower in match-3 games.
Well, Runes of Avalon 2 had it's days of glory… or actually one day ;-) It reached position #2 in match-3 genre. And it was so close to become #1. Hidden Wonders kept falling down, Runes 2 kept climbing up, but then Treasures of the Ancient Cavern have been released and outperformed our game. Too bad for us.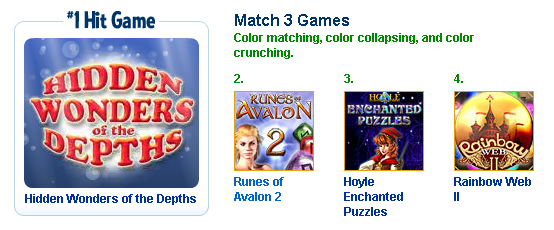 Please rate my article: