14
04
2008
When you go to the Big Fish Games website don't you feel depressed? Almost every game there is a hidden-object game… at least that's the first impression. But I bet you'll be surprised when I tell you that hidden-object games state only 35% of top 100 games. Still, it is the largest group. Here's a full break down of top 100 games on Big Fish Games.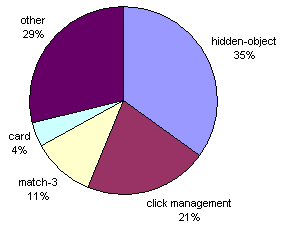 I put all action, strategy, RPG and other games that doesn't fit into 4 major categories categories.
There are also two interesting colums on the list: peak and weeks in. I was very curious what is the lowest peak for a game to get into top 100. If you are aiming to make an average game you better give up before you become disappointed… or change your thinking and aim higher.
Wonder what is average peak position for games in top 100? Try to guess… Read the rest of this entry »
Comments :
7 Comments »
Categories :
case studies
,
portals
,
sales channels
,
sales stats analysis